Welcome to the most complete list of college dorm room essentials, must-haves and a whole bunch of nice to haves.
You will find a very long list of things to consider below, but you only need a fraction of them.
Because when it comes to setting up your dorm room, less is more.
Everyone is different in terms of what makes them comfortable, so while this list is comprehensive to help you with ideas, narrow it down based on what is right for you.
How Items Make Our List
We are in our 3rd season of helping parents and students with dorm shopping recommendations, and there are a LOT of learnings from years of doing this day in and day out.
We look for products that are:
At least 4.5* rated with at least 1000 reviews. This is 90% of the list below. There are exceptions due to availability, shipping problems or customer confusion about the product's intentions, but we've selected the best options for each category.
All bedding and textiles are non-toxic/no harmful substances. This is so important as many cheap items coming from overseas are unregulated and full of toxins.
Made in the USA takes priority. While there are so many items just not made in the USA, we're prioritizing those that are.
Customer approved by either being personally tested by us or thoroughly researched.
Forward-thinking – dorm life may only be a year or two, but with each item selection, we're looking for opportunities to reuse as the student moves into apartments and other off-campus housing.
Navigating The List
You will be clicking around to various retailers to view different dorm room essentials, so make sure to bookmark this page before you start browsing so that you can find it again!
We very much appreciate you clicking through our links as we may earn a small commission on eligible purchases. This is the only revenue supporting this ad-free website, and it is our goal to keep this website free of ad clutter for as long as possible.
Ready to get started? Grab a cup of coffee and start scrolling.
Or jump to any of the following categories if you're looking for a specific recommendation.
If you aren't already in our Dorm Shopping Recommendations and Deal Alerts Facebook group, be sure to join us there for Q&A and deal alerts on these items. Don't see a recommendation for what you are looking for below, ask us in the group!
---
Dorm Bedding
Probably the most essential part of the dorm room is the bedding. Making that uncomfortable thin vinyl over springs mattress into something dream worthy is found in the layering.
Dorm Bedding – Building The Layers Of A Dorm Bed
The foundation is comprised of the layers to make a dorm bed comfortable.
Every recommendation in this bedding section is not only highly rated but also meets the following certifications to ensure a toxin-free healthier dorm bed.
The following links are for Twin XL sizes, but all should be available in Twin or Full sizes if needed.
If you are looking for Full XL, scroll down past encasements, toppers and mattress pads to the Full XL dorm bedding recommendations.
Dorm Mattress Encasement
A mattress encasement is used to 'seal off' or 'zip away' the used school-provided mattress. A mattress encasement, also called a mattress protector, is a tight-fitting enclosure with a zipper at one end.
Dorm mattresses are typically 5-8″ thick, so you'll want to use a narrow encasement on your mattress to avoid having a bunch of extra fabric sliding around.
We have only one recommendation for the encasement as it comes in multiple sizes, and there is a fit for every situation.
Note: While many choose to separate the provided mattress from their own mattress topper and bedding, some choose to put the mattress topper inside the mattress encasement. The benefit to this is to keep the mattress topper from sliding around. That can also be accomplished by a tight fitting mattress pad over the topper and mattress, but if you choose to put the topper inside the encasement, go up one thickness size. So instead of the Ultra Low Profile 6-8″, go up to the Low Profile 9-11″ thickness.
Dorm Mattress Topper
Mattress Pads For Dorm Beds
Dorm Bedding For Full XL Beds
Dorm Bedding – Sheets
Everyone needs at least a fitted sheet. My son would argue the top sheet is not necessary, but it is a lot easier to wash sheets than a big soft blanket regularly!
All sheets below are OEKO-TEX® certified.
Dorm Bedding – Blankets, Comforters & Duvets
Blankets
Comforter Sets
Duvets
Dorm Bedding – Pillows
Bamboo Cover Memory Foam Pillow CertiPUR bamboo cover shredded memory foam 4.7* rating:
2-Pack Molecule Cooling Gel Memory Foam Pillows
Quilted Fiber Fill Side Sleeper Pillow
Quilted Fiber Fill Stomach/Back Sleeper Pillow
DORM HEADBOARDS
Typical dorm beds have no headboards. You'll want something between your pillow and a concrete wall. For the following headboards with legs, you'll attach them to the dorm bedframe with zip ties. Therefore, do not use these for upper bunk or fully lofted beds.
For a Twin XL bed, you'll want a twin-sized headboard. Twins and Twin XL's are the same width.
More Feminine Headboard Options With Legs
Want more white headboard options? We have a whole article on just white headboards for a dorm!
More Unisex Headboard Options With Legs
Pillow Headboard Options
Headboard Pillow If you don't use a structured headboard, this is another option to provide a barrier to the wall. A good option for a lofted bed.
Triangular Wedge Pillow Another pillow option more supportive for sitting up in bed but not as tall. Also good for a lofted bed.
Husband Pillow (Backrest with arms) This is probably too big to stay on the bed when sleeping, but it has great height for sitting up working or reading in bed.
Accessories for bunk beds or full lofted beds
Bed Shelfie For those in a fully lofted or upper bunk bed, a Bed Shelfie is a great option for a 'nightstand'. A shelf instead of a hanging organizer allows you to place a fan, clock or other upright objects next to the bed.
Bedside Caddy Another option for bedside storage when a nightstand is not an option, this one folds over the railing.
Bed Rail for Lofted or Bunk Beds – Most schools should provide this, but if not, you will need to provide your own. EVERY lofted bed or top bunk absolutely needs a bed rail. Please see the Rail Against The Danger website for more information.
Dorm Bedding Decor And Extras
Dorm Room Storage & Furniture
After bedding, the next most important of the dorm room essentials is storage. Dorm rooms are typically 180-240sqft. That's about the size of a basic cabin on a cruise. Or the smallest bedroom in a 4-bedroom house. And TWO people are probably living there.
Creative storage to the rescue!
Under Bed Storage
Drawer Towers – Weave Finish
The following are 4-drawer options and are 31 3/4" high. If you plan to use these under the bed, please be sure you have enough clearance.
Drawer Towers – Clear
Drawer Tower Carts
Stackable Drawers
Storage Cubes
If you're looking at cube organizers for under bed or elsewhere in the room, know that they typically come with cubes that hold either 11″ square bins or 13″ square bins. Just be sure to match your cube size with the bin size.
These organizers can be placed horizontally or vertically.
The Open Space Behind The Under Bed Storage
The under bed storage options above will not take up the entire depth under the bed.
Twin XL beds are 38″ wide, and most of the options above will sit in the front 12″-17″ deep. The space behind these storage options is great for out of season storage, sports equipment and items that will be used less frequently.
Out of season clothes, jackets, extra blankets and bedding should be stored in a zippered container such as a moving bag or these large foldable storage bags.
Dorm Rolling Open Storage Carts
Narrow 3 or 4-tier Rolling Cart Use for bath & body supplies, cleaning supplies, food storage, school supplies. Narrow is perfect for sliding into that little bit of extra dorm space.
Wider 3-tier Rolling Cart For more storage in a slightly wider cart. This one is 5″ deeper and 3″ taller than the 3-tier cart above.
Wider 4-tier Rolling Cart For more storage in a slightly wider cart. This one is 6″ deeper, 2″ wider but 2″ shorter than the 4-tier cart above. But only 9″ between shelves on this one.
Dorm Room Safes and Locking Storage
Many students choose to keep important documents, prescription medicines, sentimental jewelry and electronics in a locking storage box.
Dorm Jewelry Storage
Hanging Jewelry Organizer – A super affordable and least space-intensive way to store jewelry – an organizer that hangs in a closet.
Desktop Jewelry Box – This small 10″x10″ 2-layer box holds a LOT for its size.
Stackers Modular Jewelry Storage System – This system has various trays, drawers and lids to create a stackable jewelry storage to perfectly hold your jewelry collection. A vegan leather exterior surrounds the velvet insides of each component.
Stackers also has makeup organizers, glasses organizers and travel cases if you're looking to have a consistent look across storage components.
Dorm Kitchen Storage / Mini fridge shelving units
Nightstand Storage Options
If you have space next to your bed, a nightstand with extra drawer storage is a great idea.
Dorm Furniture
Seating
Affordable Futons For Dorm Rooms
If you are fully lofting both beds (be sure you have bed rails!) in your dorm room, a popular plan is to put a futon/couch under one bed, and a TV/kitchen area under the other. The following are affordable futon options as you likely don't want to make a huge investment in something that may only be useful for a couple of years.
Dorm Clothes And Closet Organization
Hanging Storage
Over Door Organizers
Over-the-door organizer – Add 5 storage shelves/compartments to the back of your closet door. Store kitchen items, snacks, clothes, personal items, medications, etc.
Over The Door Shoe Organizer – No room on the closet floor or for a hanging shoe organizer? This over-the-door shoe holder stores 12 pairs of shoes.
Over The Door Mirror – Check to see if your dorm room is equipped with a mirror. If not, an over door model is often the best choice.
Closet Bins and Organizers
Dresser Drawers
Dorm Bathroom/Shower Essentials
Community Bathrooms
Towels and Bathrobes
Shower Caddies
Shower Shoes
Some like the holes to allow the water to run through, some don't like them for fear they may let the water rise through them. Your choice!
Slippers
Community bathroom floors and walking around the dorm hallways in general – you never want to go barefoot.

Poo-Pourri Whether you have a communal or connected bathroom, a little spray before you go helps keeps odors in the bowl.
Private Dorm Bathrooms
Feminine Shower Curtains
Neutral Shower Curtains
Shower Curtain Liners, Rings and Bath Mats
Shower Stall Width Curtain and Bath Mat
If you have a shower only, no bathtub, you will want a more narrow shower curtain. A regular-sized curtain in there will have an even harder time drying in a dorm than a well-fitting curtain.
Dorm Bathroom Accessories For Private Baths
Extra Shower Curtain Rod – Use an extra shower curtain tension rod up against the back wall to hold individual shower caddies.
Narrow Rolling Cart – Just have a slim space to fit a little extra storage? This 4-tier cart is only 6.3″ wide.
Cleaning Supplies – With your own bathroom, you'll likely be cleaning it yourselves. Be sure to bring supplies to clean the toilet, floor, shower, sink and mirror.
Dorm Temperature And Air Quality
Air Purifier – Freshen up the old musty dorm building and furniture, repel germs, pollen and bad smells and breathe clean air that is refreshed about every 15 minutes.
WOOZOO Fan – If you follow any dorm groups, you know that you MUST have a WOOZOO fan. They really are far superior in air movement than any other fan on the market, and they are compact too. Perfect for a dorm. Just make sure you get the right one with the perfectly round head on a pedestal and at least 5-speeds. These typically come with a remote as well. The best price is usually at Costco, or you can find them sold by the manufacturer at Target (the newest model) or Walmart. Or sold by a third party on Amazon.
Door Draft/Noise/Light Stopper – My son purchased this 1 week into college. The light from the hall under the door. The noise from the partiers under the door. Not sure if drafts were an issue, but this will stop that too.
Humidity Control
Dorms are damp. Well, maybe brand new dorms are not, but so many dorms are older buildings with dampness issues. You may be able to manage it with a simple bucket of Damp Rid every couple of months. But for the extremes, you may want to invest in a dehumidifier. On the flip side, if you are in a particularly dry area or dorm, you may consider a humidifier.
Damp Rid (for damp/humid dorms and private bathrooms)
Dehumidifier – My son's school dorms need dehumidifiers. This was the most recommended model when I asked in the parent group. There are some slightly less expensive, but their tanks only hold 1 pint (16oz) of water. The model linked here holds 52oz.
Humidifier – A small model but will easily cover a dorm room. Features auto shut-off and an optional night-light.
Dorm Room Desk / Study Area
Dorm Desk Hutches
Check with your school, some actually provide a hutch for the dorm desks. If not, find out the measurements of the desk for your specific dorm building. A popular size is 42″W x 24″D x 30″H, but it definitely varies. See if your housing department has this information on the website, and if not, send a quick email to housing to inquire about ALL of the measurements for the room and it's contents.
Dorm Desk Accessories
*** For those who have a community bathroom or even a shared bathroom, their desk will very likely be the spot for skincare, hair and makeup. See below for options for lighting and storage. ***
Desk Chair And Other Study Tools
College Planners And Stationary
It's fun to plan out your doom room essentials and decor, but don't forget to plan for college academics too….
College Planners
Academic Year Planner – 60+ happy, positive academic planners with a July start for the academic year.
Daily Time Block Planning Sheets – Not a full planner type of student but having a little trouble fitting it all in or staying on schedule? These one-day-at-a-time sheets help with time blocking for busy students.
Thank You Notes For College Students
College students should have thank you cards on hand for situations such as 1) Thanking grandparents or loved ones sending care packages, 2) Thanking college faculty or staff for an opportunity, extra help, networking introductions, etc, 3) Thank you note following an interview, 4) Thanking friends and family for donating to a cause you are supporting (fundraising is a big part of Greek life and other organizations).
Dorm Room Hair And Makeup
Lighted Makeup Mirrors
A must-have for anyone with a skin care or makeup routine. Don't stand in front of the community bathroom mirrors or take up that much time in a busy suite-style bathroom. A lighted mirror on your desk will give your own space to get ready, no waiting.
Makeup and Hair Storage
Dorm Room Electronics
Powering Your Dorm Room
UL-Listed Surge Protectors – Some schools require all electronics, including power supplies, to be UL-Listed. You'll want at least 2 long surge protectors for your side of the room. Outlets are few and far between.
UL-Listed Extension Cords – Soooo many schools do not allow extension cords of any kind. But if yours allows them, they likely need to be UL-Listed to reduce fire hazard.
ETL-Listed Charging Station – If you can have ETL-Listed power sources, this is handy to have on your desktop for your computer, monitor, lamp, makeup mirror and other peripherals that you may have in your study area or on your desk.
Apple Device Charging Station – My college son loves having this next to his bed to charge his phone, Air Pods and Apple Watch overnight without having to find their individual power cords. Now he carries those cords in his backpack so that they're close at hand if he needs them during the day. It travels well too (folds down), so you don't need to travel with all of your charging cables either.
Laptops
Please do not buy any laptops for college until you are very clear if your school and your major have specific requirements. Everyone should check, but majors that typically have very specific requirements or restrictions include Engineering, Architecture & Industrial Design, Computer Science, Graphic Design and Nursing. Specifications may require or disallow an operating system (Windows or Mac) or require certain memory, processing speeds or software.
When you're armed with that information, here are links to educational discounts for popular brands. Check these out and also check with your University Bookstore to see if they offer institutional discounts and/or additional benefits such as extended warranties, low-cost repairs or helpful included tech support.
Also check with Best Buy, Sam's Club or Costco for additional deals. These links will take you right to their laptop categories.
Computer Accessories
HDMI Cable – HDMI cables connect your laptop to a printer (if you bring a printer, you'll need a wired connection as printers typically can't go on school WiFi networks), a monitor, a TV and other peripherals.
Ethernet Cable – If you have access to a parent page for your school, search for or ask if kids bring an ethernet cable to get faster internet. WiFi can be slow, especially in peak times, and many rooms have network ports in them that can be turned on (made 'hot') with a service request. If you don't have an ethernet port in your computer, you can get an adapter to plug it into your computer. Adapter for MacBook (USB-C to Ethernet).
Hub/Docking Station – A hub/docking station plugs into one port on your laptop and provides several other ports/inputs so multiple peripheral devices can be connected. This recommended model connects to a USB-C port and has:
an ethernet port (so the separate adapter above would not required)
HDMI ports for connecting/mirroring a monitor, TV or printer
USB 2.0, 3.0 and USB C ports for various small devices
SD-card reader for media from cameras and dash cams
Apple iPad And accessories
So many college students are bringing iPads to school for note-taking these days. These apps will digitize hand-written notes and drawings, incorporate photos/video/audio, provide for collaboration with other students and more.
iPad Air 10.9″ – 64GB Wifi
iPad Pro 11″ – 128GB Wifi

Apple Pencil – To take hand-written notes, make drawings and annotations on the iPad.
Apple AirPod Pros The ultimate college fashion accessory with at least one in an ear almost all the time. The noise canceling Pros are a great study accessory as well.
Silicone AirPod Pro Case – The glossy white AirPod cases are beautiful and shiny, but they are slippery. A silicone case (really a skin) adds enough texture to keep them from slipping out of your pocket. This is the version for the regular AirPods.
Phone Charging And Accessories
Dorm Room TV's And Accessories
Yes, many college students will watch streaming content on their phones, but there are definitely those who want to watch shows and sports on bigger screens.
Dorm Room Lighting
We recognize that matching nightstand lamps are often the plan, especially for college-bound freshman girls. Our recommendations for these will be part of our upcoming Dorm Room Decor article(s). Be sure to follow our Dorm Shopping Facebook group and/or subscribe to our newsletter updates to be notified when these articles are published.
Dorm Room Health And Safety
For safety purposes, all young adults should consider putting the legal documents in place to give their parents or other trusted adults the ability to make decisions for them should they become unable to do so themselves. You can learn more about this in our article The Important Documents You Need When Your Child Turns 18.
Dorm Kitchen Appliances
Before purchasing any appliances for your dorm room, please check the rules and restrictions for your particular dorm building. Some dorm room essentials are just not allowed. 🙁
Mini Fridges
If you decide to bring your own mini-fridge, please determine if there is a size limitation. Often you'll see a cubic foot maximum such as 3.1 or 4.5cuft. We highly recommend 2-door models versus a freezer compartment inside the refrigerator.
Microwaves
Like mini-fridges, if you decide to bring a microwave to your dorm, please determine if there is a size limitation. These are often expressed as cu ft as well. I've seen up to .7 cu ft (basically the smallest possible microwave) to 1.2 cu ft.
Other Appliances
Food Storage And Cooking In A Dorm
Dorm-Friendly Microwave Accessories
Other Food-Related Accessories
Making Coffee In A Dorm Room
Coffee Makers
Coffee Cups, Mugs and Accessories
Dorm Room Water
Brita Pitchers For College
Water Bottles / Tumblers For College
Brita Water Bottles and Filters
Individual Brita Water Bottle If you prefer an on the go water bottle to a pitcher, this is a great option. And it holds 36oz of water.
Individual Brita Water Bottle Replacement Filters Each filter replaces 250+ 20oz single use water bottles.
Standard Brita Replacement Filters Standard filters are good for about 40 gallons of water.
Longlast/Elite Brita Replacement Filters Longlast/Elite filters are good for about 120 gallons of water.
Stainless Water Bottles
Dorm Room Trash Collection
Some dorms provide a trash can, so worth a check, but it also may be a small office-sized vessel vs one that can hold a kitchen trash bag. A larger trash can is preferred for many reasons. Be wary of what you see online because some of the small ones look big in the pictures. A standard kitchen trash can is about 13 gallons.
Dorm Room Cleaning
College Dorm Laundry
Dorm Laundry Bag/Hamper Options
Dorm Washing And Drying
Out And About On The College Campus
Off To Class
Clear Bags
For sporting events, concerts and large group gatherings, a clear bag may be the only allowed bag.
Travel When In College
Packing And Move In
For all of the details, a car packing guide and a countdown planner, please see our How To Prepare And Pack For College Move In Day article.
Thinking ahead to move-in day, you may want to leave your child a sentimental gift as you part ways. We have some sweet and sentimental ideas selected just for college move-in day.
Cars And Transportation On Campus
If you're taking a car to school, consider these safety items below. Also considering hiding an Air Tag somewhere in the car, just in case.
---
Get Sale Notifications and Dorm Essential List Updates
The list above is monitored daily for sales and promotions with notifications via our Dorm Shopping and Deal Alerts Facebook group. Join now to follow the deals, see the conversation and ask questions.
Join our email list to be notified when new content drops here on Positively Squared Away.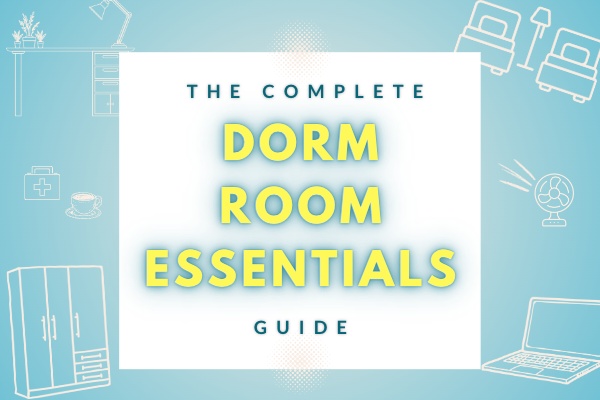 Share This List With Friends
Help us get the word out and share this list with your fellow senior parents, senior students and even those a year behind so they can start learning early.
Simply Copy/Paste this URL to share via text, messenger, email or to Facebook:
https://positivelysquaredaway.com/the-complete-dorm-room-essentials-list-with-recommendations/
Thank you!
---